We hope that you never need to make a complaint but if you do don't worry, we're here to help!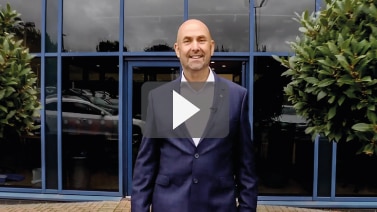 My philosophy for Carbase is a reflection of my own very high standards which is to treat customers as I would like to be treated myself. If we have not provided this standard to you I would value your time in letting me know here.
Steve Winter - Founder
Here at Carbase, we are committed to providing the highest level of customer service at all times, going above and beyond to ensure that our customers are always 100% satisfied. However, despite our best efforts, we understand that things don't always go as planned. When things do go wrong, we want to hear about your experience so we can put it right and learn from it.
So, if your experience with Carbase was anything less than five-star worthy, or you have any unresolved issues, please get in touch. Our complaints process has been designed to ensure that all issues are dealt with as quickly as possible, and you can rest assured that all complaints are handled on an individual basis.
Further Complaint Contact
Come in Store
Speak to a member our
management team.
Give us a Call
01173 04 10 60
FAQ's
How can I make a complaint?
Here at Carbase, we are dedicated to putting things right when we are at fault. There are a number of ways to make a complaint. You can either come in store and speak to one of our management team, give us a call on 01173 04 10 60, send an email to complaints@carbase.co.uk, or complete our online contact form.
We will then do our very best to get back to you as quickly as possible.
Will I hear back regarding my complaint?
We respond to each and every complaint, unless you specify otherwise. Sometimes our customers want to let us know about their experience, they simply want to pass on their feedback so we can take it on board. That's totally fine, if you'd rather we didn't respond to your complaint, just let us know.
How long will it take for me to get a response?
We will respond to your complaint as quickly as possible. If you fill out our online form and request a response, our team will aim to be in contact within 60 minutes, between the hours of 8.30am and 7.00pm.
Who will deal with my complaint?
Your complaint will be passed on to the most appropriate member of our management team. Every complaint is also passed on to our Managing Director, Steve Winter, who is committed to personally reading them all.
Who will consider my complaint?
Once we have gathered all of the information we need, a member of our team will assess your complaint in order to reach a fair and considered decision.
We will look at the following when forming our decision:
The information you provide regarding your complaint
The facts as we see them
Our policy, if required
We will then let you know the outcome of your complaint. For example, we can only consider a complaint that is accredited to one of our codes of practice.
If we decide that we are at fault, we will do our very best to put things right and aim to resolve all complaints within 60 minutes between 8:30am and 7:00pm.
We take all complaints extremely seriously and ensure that all customers are treated fairly. If you are unhappy with the outcome of your complaint, we are happy to discuss why we have reached our decision.